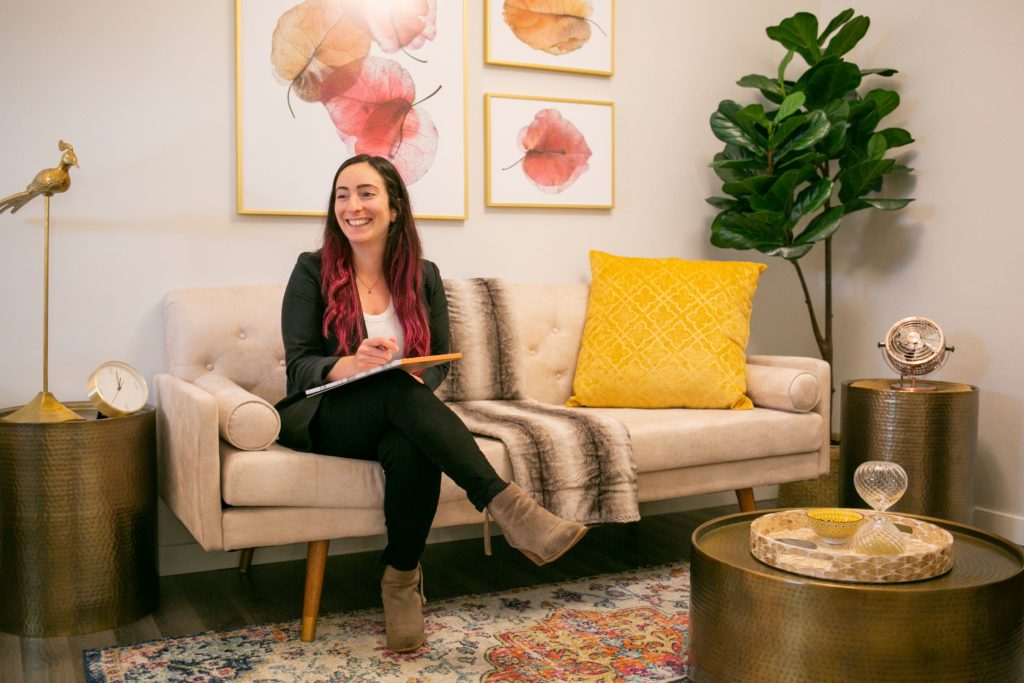 "You're imperfect, and you're wired for struggle, but you are worthy of love and belonging." – Brené Brown
The relationship between client and therapist is the key to transformative change, and finding a clinician who is the right "fit" for you is an important part of your therapeutic process. I put emphasis on building a genuine connection with you and developing trust – and from there we can explore the interplay of psychological, emotional, physical, social, and spiritual forces that are a part of your experience. I have a warm and authentic approach to my work. My strong belief is that you are the expert on your life and your healing, and my role is to join you on your path to living well by offering compassion, insight, and guidance to facilitate growth. I strive to create a space that is collaborative and inquisitive, exploring your intersecting identities and the experiences, patterns, strengths, and struggles.
I have particular experience working with young adults, especially individuals who are struggling with life transitions, anxiety, depression, trauma, grief, relationship challenges, and identity issues. I am informed by anti-oppressive ideologies and welcome and affirm members of the LGBTQIA+ community.
My work is informed by psychodynamic theory, particularly relational and attachment perspectives, and I incorporate mindfulness, cognitive-behavioral techniques, and a social justice lens into therapy.
I use she/her/hers pronouns.
I offer therapy to individuals ages 18+.
Areas of interest:
LGBTQIA+ Clients
I have particular interest in and experience working with members of LGBTQIA+ communities. Whether your concerns relate directly to this area of your identity, are impacted by it, or are entirely separate, I provide an affirming and welcoming space for all clients. My clinical experience includes providing individual therapy, group therapy, and gender-affirming services.
Relationship Challenges and Sex Therapy
I believe that difficulties in relationships can be a powerful source of suffering and conversely through corrective emotional experience can be a source of healing and growth. I enjoy working with individuals who are navigating challenges or changes in their family, friend, romantic, and sexual and/or intimate relationships. I am currently enrolled in the University of Michigan's Sexual Health Certificate Program. I additionally welcome erotically-marginalized folx and actively support all of my clients in building healthy relationships.
TRAUMA & CODEPENDENCY
I am a Certified Developmental and Relational Trauma (DART) Therapist; this means that I have completed extensive training in childhood and relational trauma.  Born out of Post Induction Therapy, which was created by Pia Mellody (author, Facing Codependence), and later refined by Jan Bergstrom (author, Gifts from a Challenging Childhood) and Dr. Rick Butts, individuals learn how areas of unmanageability in their lives have manifested, and how to shift back into their Functional Adult selves.  I have also completed Basic Training in Attachment Focused EMDR (AF-EMDR).
Other concerns that I work with:
Identity Concerns
Trauma
Anxiety
Depression
Leah Gold, MSW, LCSW, DARTT
Licensed Clinical Social Worker
Master of Social Work, Smith College School for Social Work